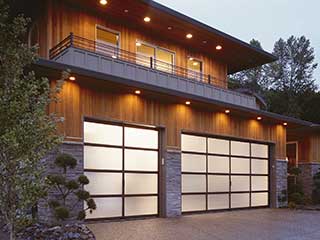 Repairing garage door systems is no easy task. However, our the technicians of our company have been doing it for so many years we've developed a very particular set of skills that allow us to perform any repair or replacement task with speed and efficiency. You'll find no better service provider in all of Illinois.
Dealing With Broken Springs
Your garage door springs are crucial parts of the system. They support the weight of the panels, and as a result, they're under a great deal of tension day in and day out. When they break, they are incredibly dangerous to handle, and should only be replaced by professional technicians. Our experts can deal with both torsion and extension springs, and we can safely replace and adjust these components quickly and efficiently.
Repairing Malfunctioning Openers
A garage door opener can make your daily routine incredibly convenient, but when it suffers a problem, it oftentimes will have the opposite effect. Luckily for you, our expert technicians can provide you with an excellent solution in no time at all. Whether a motor gear needs to be replaced or a part of the circuitry is the culprit, we can perform the necessary work on the spot, and we'll restore your opener's condition very quickly.
Routine Maintenance Services
The best way to make sure your garage door continues functioning optimally for as long as it possibly can, is to make sure it undergoes professional maintenance on a regular basis. This will ensure minor issues are stopped from becoming larger problems. Our technicians will inspect every inch of your system, lubricate the springs, rollers and every other relevant part, and will make sure the safety sensors are aligned correctly. With our routine service appointments, you'll be able to rest easily knowing your garage door is taken care of.
We're Always Ready
We provide emergency services because we understand how some garage door problems can put a serious damper on your daily routine. Our experts at Garage Door Repair Romeoville will help you out of any jam as quickly as we can.
Contact Us Today:
Emergency Services Available
Top Tier Repair Technicians