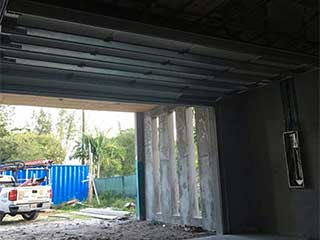 Any large mechanical device will eventually experience a problem. Automatic garage doors are no exception. There are too many moving parts involved in their operation for this not to happen. Luckily for you, our team can help you when something like this happens.
Broken Cables and Springs
It's thanks to its cables and springs that you're able to move your garage door without exhausting yourself physically. Whether you have an opener or not, these are the components that bear the full weight of the panels, so when they end up snapping, things could go bad. Since a lot of tension and unbalanced weight is involved in this scenario, you should avoid trying to repair anything by yourself. Our technicians will perform the necessary cable or spring replacement safely and quickly.
Emergency Response Services
We understand the importance of urgency when it comes to problems with your overhead door. That's why we always make sure to get to any customer in need as fast as humanly possible. We don't want you to have to wait around needlessly, so we do everything we can, aside from breaking the law, in order to make it to your home as quickly as we can.
We'll Get Your Door Back On Track
Since the tracks are responsible for guiding the movement of your door panels, when they get bent or misshapen somehow, something really bad could happen. The door could collapse. To avoid this, you need to stop trying to use your garage door if you suspect something's wrong with your tracks. We'll repair or replace your tracks without compromising anyone's safety.
Don't Hesitate To Call Us
Whatever problem you're experiencing, we promise you there's a solution. Contact our experts at Garage Door Repair Romeoville to get things sorted out quickly and safely.
We also offer the following services:
New Garage Door Installation
Sliding & Swing Gate Repairs
Genie Garage Door Openers