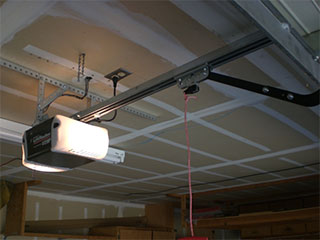 Our professional technicians specialize in repairing and replacing garage door openers regardless of their type or model. We also perform new opener installations, and our experts will be more than happy to advise you on which of the many different options available today will be the best one for your specific needs.
The Different Types
There are a lot of options to choose from when it comes to getting a new garage door opener, as there are many different name brands that are battling for dominance in the marketplace. However, pretty much every model of these units operates using one of the three most common drive systems. The screw-drive openers are praises for their low maintenance requirements and their strength, while belt-drive models are often preferred for their quiet and smooth operation. Chain-drive units are extremely common due to their affordability; however they do require more frequent maintenance than the other types.
Regular Maintenance Is Important
While the type of opener you have will determine how often maintenance needs to be performed, every garage door opener requires some routine inspection and upkeep. The motor needs to be examined for worn-out gears, just like the circuit board needs to be checked to make sure no burnt wires are present. Regardless of what brand of garage door opener you have, your safety sensors also need to be tested to ensure they are properly aligned. If something's wrong with them, call our team right away.
New Opener Installation
It's true that the best way to avoid the majority of potential issues is through maintenance. However, before you start using your opener it first needs to be installed perfectly, as this can go a great deal towards making sure misalignment and grinding issues don't manifest prematurely. Not only can our professional technicians perform this procedure for you with speed and efficiency, we can also consult you during the shopping process, and help you choose the perfect unit for your door.
Call Us Today
Whether you're experiencing a problem or simply want to get an expert's advice, our team at Garage Door Repair Romeoville can help. Contact us for any related need.
In addition, count on us for:
Garage Door Troubleshooting Services
Remote Opener Clicker Replacement
Torsion Spring Adjustment
Broken Garage Door Track Repair