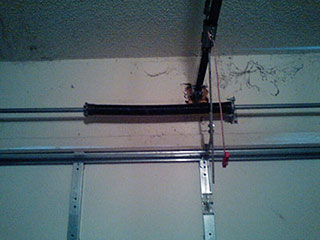 Even if you are not very familiar with how an automatic garage door functions, you probably still know (or have a general notion of) what its springs look like. At a very basic level, their way of working seems quite easy to understand. However, their simplicity can sometimes make people believe that garage door springs are not actually that complex. Nothing could be further from the truth, though! Springs can cause a lot of damage to the rest of your door, and will more than likely render it inoperable. These components can be very dangerous to handle, so you should leave any broken spring replacement to the professionals.
The Two Main Types
There are two types of springs used today. The torsion and the extension type. The first one is installed above your door, parallel to its width. One torsion spring is usually enough, unless your door panels are very heavy. This component uses torque, which means it twists and unwinds in order to support and carry the weight of your door. The extension type usually consists of a set of two springs. They are installed on each side of your door and are stretched towards the inside of your garage. These springs stretch and contract in order to achieve the same goal as the torsion one, but due to the nature of their action, they are considered more dangerous, and more likely to go whipping around your garage when they snap.
Maintenance Will Ensure Longevity
The best way to make sure your garage door springs are in the best condition possible is to make sure they undergo routine maintenance. Our technicians can provide you with just that. We'll examine their condition, apply them with the right type of lubricant and make any necessary adjustments in order to make sure their tension is evenly distributed. If we find that their condition is getting a little too worse for wear, we'll replace them right away, thus preventing a lot of potential accidents.
Contact Us For Any Related Need
If you suspect something might be wrong with your springs, don't try to perform any replacement or repairs by yourself. The sheer risks aren't worth it. Not when you have us at your disposal. Call our experts at Garage Door Repair Romeoville today.
Looking for more? We also offer:
Garage Door Tune Up Services
Liftmaster Garage Door Openers
Garage Door Cable Replacement
Roll Up Garage Door Services