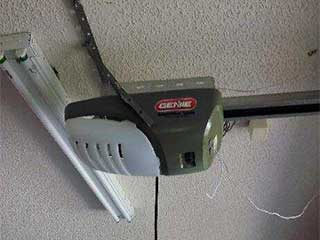 As experts in garage door openers, our technicians at Garage Door Repair Romeoville specialize in repairing and installing Genie products. We follow the technological advancements and the innovative steps of this brand very closely, as they are one of the industry's leading manufacturers. Having extensive knowledge of how opener systems from all the major brands work and develop is of the utmost importance to our work.
Mechanical and Electrical Issues
Genie's products are known for their reliability, but even the most reliable component can eventually suffer a malfunction. When that happens, we're the team to call. Our repair services are immediate and we can solve both electrical and mechanical issues. From worn out motor gears that could make your opener run on "neutral" to fried circuit boards that will render the unit "dead in the water", you can entrust our experts with all of your problems.
The Smart Choice
Genie's products continue to innovate with every passing year, but they are most famous for being one of, if not the first brand to start applying rolling code technology to their openers. The Genie Intellicode is famous for making sure your garage door opener does not become susceptible to even the most tech savvy of burglars. Rolling code technology means that each time your opener and its remote interact, whether it's in order to open the door or close it, their communication codes will change. There's no code-jacking of Genie openers thanks to that nifty trick.
Safety Sensor Testing
All of Genie's products comply with the UL 325 regulations to ensure the safety of their users. That means they have photo-electric eyes, otherwise known as safety sensors, that detect when an obstacle is blocking the door's path and alerts the opener, which then reverses its action in order to avoid from hitting the obstacle. These sensors need to be positioned correctly in order to function optimally, and they require a delicate touch in order to be repositioned. If your sensors are misaligned, you can trust our technicians to carefully realign them for you.
Installation Done Right
Our specialty in Genie openers allows us to provide excellent opener installation services to our customers. Our technicians are highly skilled in performing this procedure and can complete it quickly without compromising the condition of any of its features. We always make sure everything is fastened and tightened and that all the safety and security features are working correctly.
Contact Us Today
Our Genie garage door opener services vary according to the needs of our clients, but we can assure you that we can professionally handle every type of problem, regardless of the model. If you're looking for a new garage door opener made by a top-tier manufacturer, then our experts at Garage Door Repair Romeoville can help you find the perfect Genie opener for you. Call us today.