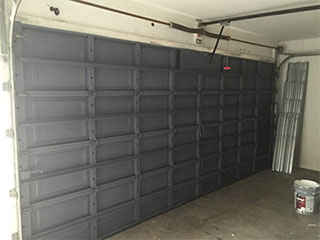 Garage doors are complex pieces of machinery. While the systems are generally built to last, the stress and strain of constant use can lead to a lot of wear and tear. Over time, the mechanisms and moving parts that keep your door working will need professional attention in order to prevent problems developing. Our wide range of maintenance services already help a large number of households ensure they keep their doors working smoothly and reliably.
The Need for Servicing
It should come as no surprise that the mechanical parts of a garage door are subject to a lot of strain. A busy household can easily operate their door a thousand times per year, during which time components can become loose, dry out and fall out of alignment without regular maintenance and lubrication.
When to Arrange a Service
In our experience, many common garage door problems are caused by a lack of proper maintenance. Plenty of homeowners only look to address problems with their door once it breaks down, but carrying out repairs is always expensive and awkward. Maintenance prevents problems from developing in the first place, and is a cheaper, more effective way of extending the lifespan of your system. Most manufacturers require annual servicing as a condition of their warranty, and we recommend regular service appointments for all doors.
Professional Service Appointments
When our technicians carry out a service and maintenance inspection they'll assess the condition of the door before carrying out any work. Lubrication, recalibration and tightening of loose parts will all be carried out as necessary and our technician will identify any causes for concern. As a result, you'll be able to replace parts before they fail and save the hassle and money involved in fixing a broken system later down the line.
Book Your Appointment Today
We're proud to offer high quality maintenance services that our customers can rely on. We highly recommend investing in regular service appointments to extend the life of your door – contact Garage Door Repair Romeoville today to arrange an inspection from our team of expert technicians.
But wait, there's more! We also offer:
Garage Door Opener Track Maintenance
Opener Sensor Repair & Replacement
Torsion & Extension Spring Replacement
Overhead Door Repair & Installation